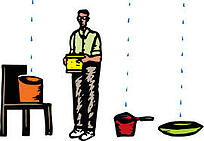 Making decisions when you have a roof problem can be confusing, frustrating and difficult. It doesn't have to be! Just follow this checklist to make the process easier.
Making the wrong assumptions about your roof problem can lead you down the wrong path and waste precious time and money. Follow these 5 guidelines to get the right answers and make the right decisions.

1. You may have a current warranty on the roof area that is giving you trouble. In the last 20 years most roofs were installed with an excellent manufacturer's warranty. Check your records or have the roofer you are working with check into whether you have an active roof warranty. If so, this may solve the problem at no cost.

2. The continuous roof leak you have can be found! It doesn't mean you need a new roof. Roof leaks can be complicated and may take some detective work. Frequently leaks are not caused by roof problems but by leaks in walls, roof top units, skylights and many other items. Most leaks can be found for less than $500 by water testing with a garden hose.
Click Here To Find Out More About Finding Leaks

3. Multiple leaks in roofs that are 15 years old and younger can be repaired and its effective life extended 5-10 more years. Most modern roof membranes can last 20-25 years or more. They can develop issues with their flashings and seam before that. With proper care and maintenance the roof life can be extended many years beyond when issues begin to surface.

4. One size doesn't fit all. In the event that a new roof is required be sure to get pricing on several types of roof membranes. There are vast arrays of products on the market to fit every roof situation. This includes EPDM, TPO & PVC products as well as mechanically fastened and adhered systems. Find out what is right for your roofing conditions and ask the contractor why they recommend that particular product. Choose contractors that offer a variety of types of membrane and systems. There are plenty of them out there.


5. You don't have to take the butcher's word for it. To apply the famous "Tommy Boy" quote, you don't have to take the roofers word for what is happening on your roof. There are some great software products that can provide a comprehensive roof report complete with aerial photos, condition reports and video and photos of all pertinent details of your roof for a very minimal cost. This allows you as the owner to take control of managing your roof asset.
Click Here To See OnLine Software by GLS

Solving roof problems can be difficult and challenging but it doesn't have to be if you follow these simple guidelines. The guidelines will help you gather the information you need to get the issue resolved or replace your roof if necessary.