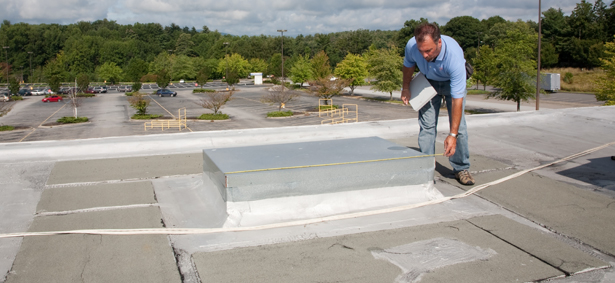 So we made it through another pretty rough winter season! Did your roof survive? After a winter like we just had, some roofs look like some of our roads. Now is a good time to get a look at your roof before the spring rains begin and damage your building and its contents. Here is a short list of what you should get a look at when you get up on your roof.
1.) If your roof leaked during the winter, look around on the roof above the area where the leak occurred. See if you can spot the cause. In most cases you can at least make some temporary repairs with a good grade of latex caulk.
2.) Inspect and clean out your roof drainage systems. Leaves and other debris can get 'stuck' in the ponding water on the roof and clog roof drains. This includes roof sumps, gutters, and downspouts. When drainage is inhibited it causes water on the roof to rise above what it was designed for creating roof leaks at curbs and other areas. It also adds weight to the roof structure and in extreme cases cause collapse. Bring a trash bag up and clean out those drainage systems!
3.) Take a roof tour! Systematically walk the entire roof and look for any obvious problems. Include not only the roof membrane area but also the roof curbs, pipes etc that are on the roof. The majority of what you find can again be caulked. Of course if the roof is under warranty it will eventually have to be repaired per the manufacturers specs.
4.) Finally, take a good look at the entire perimeter both from the roof and the ground. Most roof damage occurs here. Inspect the metal edge flashing especially. If there is damage and it isn't repaired it can lead to some major damage in strong spring winds and in extreme conditions cause a roof to blow off.
This can be a very vulnerable time for your roof. Now is a great time to check it before the spring wind and rains test it. Of course if you need a hand just give us a call!